18
Our mission
Our logistics network delivers (car) mobility to the door.
250+
motivated professionals and apprentices from over twenty countries make up COTRA
180'000+
vehicles transported every year – from top-flight sports cars to electric city runabouts
45%
of all vehicles on Swiss roads have passed through our loving hands
Values
Strong shared values have been underpinning our business since 1965.

Community
A family atmosphere is ingrained in our company and helps us pull together, every time. Our collective energy links us and everything we do.

Passion
We kindle passion through meaningful work, team spirit, fairness and appreciation.

Openness
We have open minds and a healthy dose of curiosity, and are constantly exploring new, innovative pathways. We welcome imagination and transform visions into reality.

Sustainability
We believe strongly in a sustainable, respectful approach to our planet and natural surroundings. We work continuously to minimise the negative effects we have on the environment, to the full extent of our economic and technical ability.
COTRA Autotransport AG
Founded in Lupfig (Switzerland) in 1965, COTRA Autotransport AG has been a leading provider of innovative solutions and services relating to vehicle logistics and transport for over half a century. Our Europe-wide logistics network and highly trained professionals deliver mobility to your door.
Show sites
In Rümlang, just by Zurich airport, we have been offering our partners in the vehicle service industry a highly efficient infrastructure since 2015: fuelling stations, electric charge points, car wash facilities, tyre servicing and workshop, a parking garage with 800 parking spots and a range of office spaces and workshops. The Airport Car Center is also home to a CARTEC office and our subsidiary Airportparking (Schweiz) AG.
Deliveries arrive at the logistics centre in Studen by rail and road. Thanks to short travel routes to the compound and customer-tailored processes, we can handle every new arrival quickly and efficiently. Vehicles that cannot be prepared immediately for onward delivery are stored either undercover in our timber parking garage, or on our open parking area. All our storage lots are secure and monitored. We offer a maintenance programme for vehicles in storage, tailored to your individual needs.
Our trucks that transport other vehicles must be in peak condition! This is why we have our own HGV workshop in Strengelbach (Aargau). Next to the maintenance of our own trucks we offer services, repairs and much more for both internal or external customers. As Switzerland's exclusive partner in the Kässbohrer Transport Technik service network, we are also there for warranty, repair and maintenance work on Kässbohrer car transporter bodies.
COTRA Group
The fusion of an Italian company and a Swiss company in 1965 was just the beginning. Over the years, we have evolved through targeted partnerships and mergers to become Switzerland's leading specialist for vehicle transport and logistics. Today, the COTRA Group has around 300 employees working at over 15 different trades at its five sites.
Mirjam Rudin
Head of customer service
Martha Wächter
Customer service
Marc Hodel
Customer service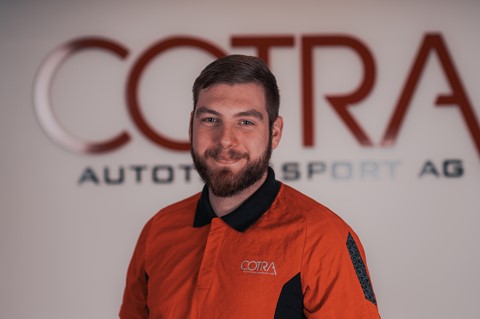 Roger Schuhmacher
Customer service and damage claims
Jean-Marc Padrun
Head of transport department and apprentice training
Nico Stählin
Project manager – transport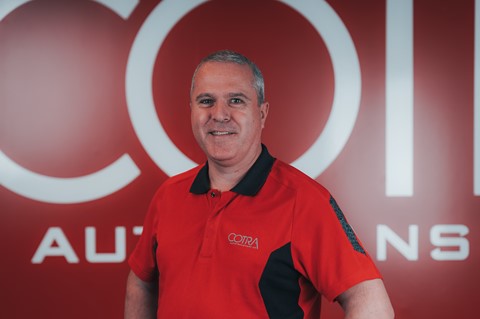 Remo Sollberger
works manager, vehicle logistics centre
Marc Schütz
Deputy works manager, vehicle logistics centre
Michael Biedermann
Workshop manager
Pascal Gloor
Chief Executive Officer
Stefan Zubler
Chief Finance Officer
Edmond Borner
Chief Operation Officer
Solar energy in Studen
From June 2022, the first expansion stage of our solar power plant in Studen BE will be in operation. We are generating around 650,000 kWh of electricity per year on 6,000 qm2 of new hall roofs.
Two further project stages in Studen and additional projects at other sites have already been planned. Our goal at COTRA is to become as self-sufficient in energy terms as possible, based on renewable sources.
Quality management
We set ourselves high standards and continuously review our quality and processes. To ensure that you, our customers, can also be confident that our work meets the highest of standards, we are audited and certified annually by external certification bodies.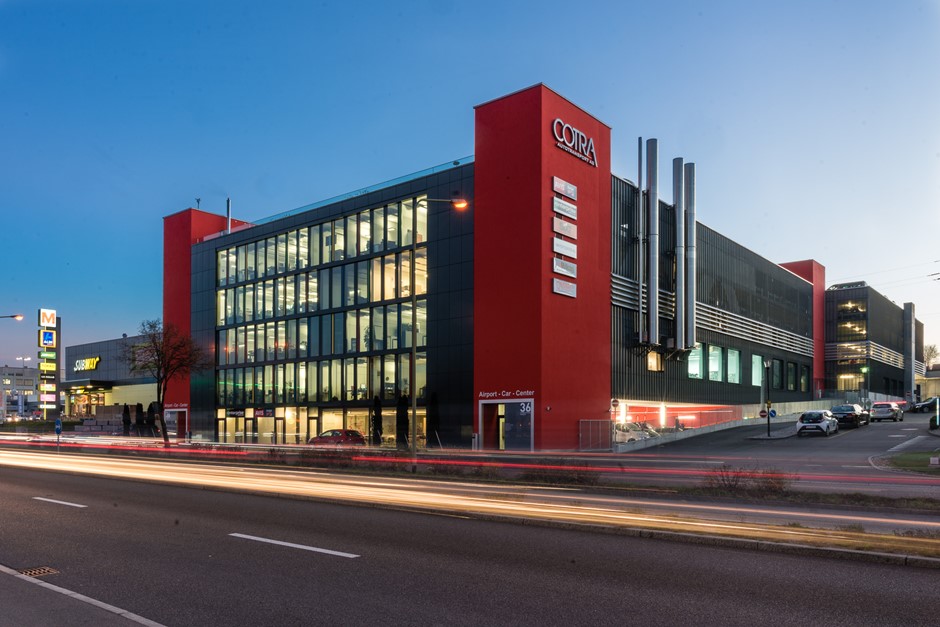 Real estate for hire